REMS is the first EMS Council in Virginia to implement this program, which is in place in several other states.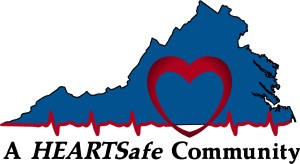 What is it?
HEARTSafe Communities is a program designed to promote survival from sudden out-of-hospital cardiac arrest. It is a general concept focused upon strengthening the "chain of survival" as described by the American Heart Association; it recognizes and stimulates efforts by individual communities to improve their system for preventing sudden cardiac arrest (SCA) from becoming irreversible death.
In partnership with Stafford County, the REMS Council BOD recently approved the implementation of the HEARTSafe Virginia program. This voluntary program allows communities to collect points toward gaining this recognition through CPR training, AED availability, and pre-hospital ALS. Currently endorsed areas include King George County, the Greater Williamsburg Area, the City of Fredericksburg, Spotsylvania County, and Stafford County, with others moving through the process.
For more information on this program, contact the REMS Council at 540-373-0249 or check out the documentation found above.
Heart and Stroke Stats / Resources: