We want REMS area providers to have access to the most up-to-date EMS news and research findings; this information allows providers to give the best patient care possible. Providers need more than education and skills, however: each provider also needs the opportunity to work for an organization that will allow them to effectively utilize his or her knowledge and skills. To that end, the Rappahannock EMS Council will post verified employment listings not only for our region, but also for positions listed nationally.
If you or your agency has information about a job you would like REMS to post, please email us at rems@vaems.org
General EMS Opportunities
OEMS - Trauma and Critical Care Program Manager
Mary Washington Healthcare - Temporary COVID testing employment.
Lord Fairfax Community College: Paramedic Faculty FT
Thomas Jefferson EMS Council: Regional Program/Education Coordinator
Shenandoah County Fire and Rescue: Firefighter/EMT
Manassas Park Fire Department: Firefighter/EMT or Firefighter/Paramedic
Peninsulas EMS Council: EMS Planning and Emergency Management Coordinator; EMS Field Coordinator
Office of EMS: Human Services Program Coordinator (EMS Program Representative)
King George County : Fire / Rescue Technician - Level 1 & 2
King George County: Firefighter / EMT
Medical Transport (Blue Ridge, Northern, Hampton Roads) - EMT / Intermediate / Paramedic - Apply - Benefits Info
Madison County - EMT Intermediate / Paramedic
Caroline County: Recruitment & Retention Officer (Part Time) – posted August 9, 2019 - Caroline Co. Dept. of Fire-Rescue & Emergency Mgmt. is seeking a part time officer to coordinate recruitment and retention programs. Duties will include tracking potential members; providing new member orientations; public speaking; planning local events/workshops; producing and updating recruitment/marketing materials and social media postings. The successful candidate will be a high school graduate or equivalent, experienced in recruitment and public speaking, strong computer skills and in possession, at all times, of a valid Virginia driver's license. Preferred candidate would have fire and EMS education or experience. Frequent night and weekend duties are necessary. Apply on line at https://co.caroline.va.us/551/Employment-Opportunities . Please call the Department of Fire and Rescue at 804-633-9831 for details/questions. Applications accepted until September 3, 2019. Caroline County is an equal opportunity employer.
Starting Pay - $17.55 per hour
Orange County: Firefighter/Medic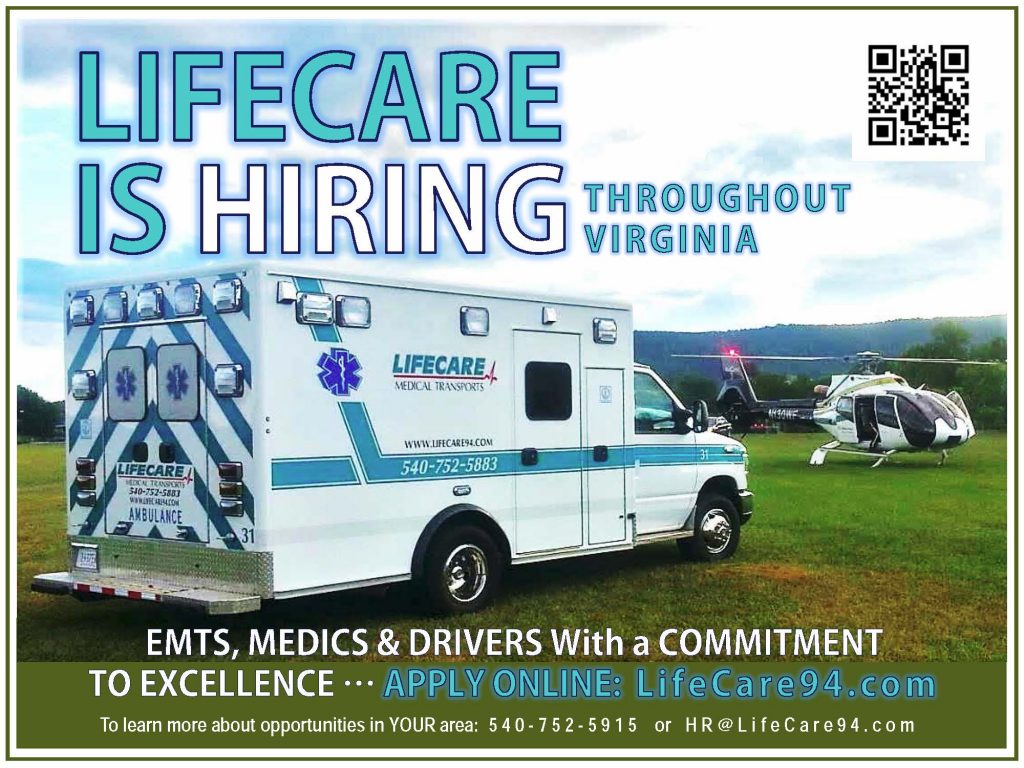 Amherst County: Basic EMT/Firefighter Positions
Amherst County Public Safety is accepting applications for Basic EMT / Firefighters. Must possess current EMS certification and CPR, EVOC, must be 21 and have a valid Virginia Drivers license. Prefer Firefighter I or higher – if not Firefighter I certified, must enroll in class within twelve months followed by Haz-Mat Operations and Firefighter II. Prefer minimum one year of pre-hospital and / or firefighting experience. Working in coordination with County volunteer fire and EMS agencies is critical. Successful candidates will be required to pass extensive background investigation, DMV record check, polygraph, pre-employment physical and drug screening. Interested candidates can acquire a job description and application from Amherst County Department of Public Safety, P.O. Box 140, 119 Taylor Street, Amherst, VA. 24521. Call 434-946-9307 or go to www.countyofamherst.com to download application. Please submit application, along with copies of relevant Fire / EMS certifications to Amherst County Public Safety. Open application period until filled. Amherst County is an Equal Opportunity Employer.
Medical Transport, LLC - Woodbridge, VA Office is hiring. Visit medicaltransportllc.com and select "Careers." Fully funded pension plan, 403B, Tuition Assistance, Medical/Dental/Vision, and leave. Contact llstoney@sentara.com for more info.
City of Williamsburg: ALS Technician/Firefighter
The ALS Technician/Firefighter is a newly created position in the City of Williamsburg. The position was created to enhance the capabilities of the Fire Department by staffing multiple medic units in addition to the city's fire suppression fleet. The position also provides opportunities to emergency medical professionals who are seeking an EMS focused career in the fire service. Our ALS Technician/Firefighters will have the opportunity to specialize in the delivery of pre-hospital care while also assisting in fire ground operations. Click here for more info.
Westmoreland County: Emergency Medical Technician
Westmoreland County, VA is currently accepting applications for full time and part time Emergency Medical Technician Basic, Intermediate, and Paramedic positions. Applications (use VA Form 10-012) and the job description may be obtained either in person at the County Administrator's Office located in the George D English, Sr. Memorial Building, Montross, Virginia, by calling the County Administrator's Office at 804.493.0130, or online at www.westmoreland-county.org. Starting salaries are as follows, EMT- Basic $14.18 per hour, EMT-Intermediate $15.86 per hour, EMT- Paramedic $17.54 per hour. Open until filled. Westmoreland County, VA is an AA/EO Employer.
General Medical Opportunities
Registered Nurse - NEONATAL EMERGENCY TRANSPORT TEAM (NETS) - UVA Health System
General Opportunities
Mental Health America of Fredericksburg - Executive Director